PLEASE CLICK TO DONATE TO OUR SITE!!!!
This is just an unofficial fan page, we have no connection to "Guiding Light" or CBS.
PLEASE CLICK TO DONATE TO OUR SITE!!!!
Guiding Light Characters
Description by Elizabeth
Annie Dutton (AKA - Teri DeMarco)
PLAYED BY:
Cynthia Watros (November 29, 1994 to February 23, 1998)
Signy Coleman (July 30, 1998 to July 20, 1999; January 14, 15, 21, 2003)
WORK:
Former nurse
Former physical therapist

ABOUT:
Perhaps one of the most exciting characters ever to appear in Springfield, Annie didn't seem to be a troublemaker when she first arrived in Springfield.

She came into town in 1994 working as a Cedars Hospital nurse. Soon after arriving, she and Josh developed a relationship. However, unbeknownst to everyone else in town, she was a bigamist. Back in Chicago, she and Rick Bauer had married and due to some unforeseen circumstances were never fully divorced. We learned that her marriage fell apart with him due to her alcoholism. Annie still ended up marrying Josh, but hours after their marriage, his long lost ex-wife Reva returned to town. Although Annie tried to do the right thing and gave him the option of leaving her, he refused. Slowly, their marriage began to deteriorate. Josh began to feel guilty about not being with Reva, and eventually Annie became addicted to prescription pills. She got some help, which is when Alan Spaulding entered the scene.

Alan helped her get some professional help in regard to her addiction. Later, he helped her get pregnant with Josh's baby in an attempt to trap him in their marriage. After suffering a miscarriage, she deliberately made it look like it was Reva's fault. She staged a fight and made it look like Reva pushed her down a flight of stairs. Bound and determined to get Reva out of her life, she even took her to court. Lucky for Reva, she wasn't found guilty.

Eventually, Annie and Alan began living together, and he found out many things about her past. On their wedding day, another ex-husband of Annieís interrupted the ceremony to announce that they had never gotten divorced. Alan was angry, so she was arrested. She escaped from jail, kidnapped Reva, and hijacked a plane. After tying Reva up, she left her in a plane with no pilot, while she jumped out. Everyone assumed she was dead.

After many months, a police office from Michigan moved to Springfield named Teri DeMarco. She helped Frank work on the Nursery Rhyme Stalker case. However, Teri is secretly Annie. Annie met the real Teri while vacationing. After an accident, Teri was left in a coma, and Annie got a plastic surgeon to recreate Teriís face on her own. The only person who figured this out was Dinah, and she kept Annie's secret.

Meanwhile, Teri began slowly drugging Josh so that he would fall in love with Revaís sister, Cassie. She also seduced Alan, who recognized her.

When Reva began investigating Teri because of all the free time she was spending with Josh, she discovered Annie's secret. She was put in jail, escaped, and then ran away to parts unknown.

Four years passed before Annie was heard from again. In 2003, when Reva was being stalked, Annie was a suspect. It was then revealed that she was living in a mental institution, and all of her expenses were being paid for by Alan. Revaís visit was a chilly one. Annie was living in a replica of the Lewis House, thinking she was still married to Josh. That was the last time viewers saw Annie.
Page proofread by Laura 10/6/09
Back to the Main Guiding Light Character Descriptions Page
---
Buy Soap Magazines
Go here for great news & scoops, photos and in-depth articles!
Soap Opera Digest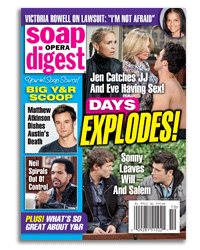 ---