PLEASE CLICK TO DONATE TO OUR SITE!!!!
Guiding Light Characters
Description by Elizabeth
ALEXANDRA SPAULDING
PLAYED BY:
Beverlee McKinsey (February 1984 to August 1992)

Joan Collins (September 23rd to December 23rd, 2002)

Marj Dusay (September 25, 1993 to March 11, 1997; November 20, 1998 to January 21st, 1999; December 26, 2002 to present)
ROMANCE:
Eric Luvonaczek (lover)
Baron Von Halkein (divorced, deceased)
Locke Walls (lover, deceased)
Mike Bauer (lover)
Ross Marler (lover)
Harlan Billy "H.B." Lewis I (engaged, deceased)
Warren Andrews (engaged)
Mark Jarrett (dated)
Fletcher Reade (lover)
Roger Thorpe (Divorced)
Hawk Shayne (dated, as part of a sting)
Edmund Winslow (lover)
Buzz Cooper (dated)
CHILDREN:
Brandon "Lujack" Luvonaczek (with Eric, deceased)
Nick McHenry Spaulding (with Eric)
WORK:
Exec at Spaulding Enterprises
Former CEO of Spaulding Enterprises
ABOUT:
Alex originally arrived in Springfield to seek revenge against her brother, who had destroyed her relationship with Eric. She has always been competitive with her brother, Alan, and yet the two share a special bond as they are family.
Alexandra has also known her share of loss. Her greatest loss was the death of her son, Brandon "Lujack" Luvonaczek. However, the discovery of Nick, Lujack's twin, helped to ease her pain. (Alex never knew she had given birth to twins.)
She has ruined a few of her relationships (such as with Fletcher and Buzz) by lying.
Alexandra left Springfield for a few years. She returned again in 2002 and claimed that her new focus was family. Alex will do almost anything for her family, as evidenced by her willingness to go to jail to cover up the Antimonius drug ring. Since then, Alex has tried to remain out of the spotlight while still caring for her family.
Page proofread by Laura 8/11/09
Back to the Main Guiding Light Character Descriptions Page
---
Buy Soap Magazines
Go here for great news & scoops, photos and in-depth articles!
Soap Opera Digest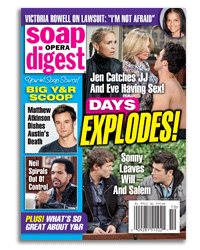 ---