PLEASE CLICK TO DONATE TO OUR SITE!!!!
Guiding Light Characters
Description by Elizabeth
ALAN SPAULDING - Deceased
PLAYED BY:
Christopher Bernau (November 7th, 1977 to May 1984, May 23rd, 1986 to June 1988)
David Bailey (temporarily filled in for Bernau, January to February 1979)
Wayne Tippet (temporarily filled in for Bernau 1982)
Daniel Pilon (July 1988 to June 26, 1989; October 1989)
Ron Raines (July 15, 1994 to present)
Jeff Branson (Winter 2004; in flashbacks)
CHILDREN:
Unnamed stillborn son (with Elizabeth)
Phillip Spaulding (son, adopted)
Gus Aitoro (son with Regina, deceased)
Unnamed miscarried son (with Jackie)
Alan-Michael Spaulding (son with Hope)
Unnamed miscarried son (with Beth Raines)
Peyton Alexandra Raines (with Beth)
WORK:
On-again, off-again President, Spaulding Enterprises
Board member at Cedars Hospital
Temporarily owned Lewis Oil
Former president of Advantage Systems
Former owner of the newspaper "The Mirror"
ROMANCE:
Elizabeth Granville (divorced)
Jackie Scott Marler (divorced; deceased)
Hope Bauer (divorced)
Reva Shayne (annulled)
Olivia Spencer (divorced)
Beth Raines (divorced)
Doris Wolfe (annulled)
Janice Stafford (lovers; deceased)
Jennifer Richards (lovers)
Brandy Shelloe (lovers)
Regina Tessori aka Lucia Renaldi (lovers)
Diane Ballard (lovers; deceased)
Rita Stapleton (lovers)
Patricia "Trish" Lewis (lovers)
Vanessa Chamberlain (engaged)
Blake Thorpe (lovers)
Sonni Carrera (lovers)
Nadine Cooper (lovers; deceased)
Tangie Hill (lovers)
Annie Dutton (engaged)
India von Halkein (lovers)
Claire Ramsey (lovers)
ABOUT:
Alan's name is synonymous with the word power. The only thing equal to power, in his eyes, would be family. Phillip was always the golden boy, whereas Alan-Michael had to fight for his father's attention.
When it comes to women in his life, they are always secondary to the business. The one exception was Annie Dutton, whom he truly loved. He even hid her in the Spaulding Mansion attic when the police were looking for her. His loyalty to her ended when he had her arrested for kidnapping his granddaughter, Lizzie. However, when Reva was looking for her stalker and went to Alan for help in finding Annie, it was obvious that he still might be harboring some feelings for her.
Alan also had a rocky relationship with his sister. For a long time, she blamed him for helping their father give her son up for adoption. There was also the time that she discovered her brother was manufacturing a biological weapon - she turned him in to the police. Consequently, he fled the country and then stole the only evidence of his crime, to avoid being prosecuted.
He is a cold and calculating man who usually gets what he wants, by any & all means necessary. He is a master at exploiting the weak spots of others, to help get what he wants. For example, in an attempt to break Jim Lemay and Beth Raines up, he took Jim on a trip to Las Vegas. Jim was a gambling addict. There was also the time he drugged Ross and then took pictures of him and his car full of cocaine - all because he was jealous of the man.
Most of Alan's children and grand-children hated him, although Lizzie, his grand-daughter, has been pretty loyal to him.
When Philip went crazy, Alan helped him skip town and made it look like he died. When Phillip later returned, Alan really did not want him around because he was enjoying being the head of the family and the company (he was also about to marry Beth). Although he tried to get Philip committed, it didn't work. The two eventually made peace on a camping trip.
When Phillip was told he was terminal, Alan was the only match, even though he is not Phillip's biological father. Alan insisted on being a donor, even though it was very dangerous. The operation was a success, but Alan later died. Everyone forgave him for his selfless act, and he made peace with them all before he died.
Page proofread by Laura 8/11/09
Back to the Main Guiding Light Character Descriptions Page
---
Buy Soap Magazines
Go here for great news & scoops, photos and in-depth articles!
Soap Opera Digest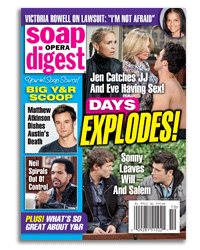 ---