PLEASE CLICK TO DONATE TO OUR SITE!!!!
Guiding Light Characters
Description by Elizabeth
ALAN - MICHAEL SPAULDING
PLAYED BY:
Jessica Zutterman (September 23rd, 1981 to October 12th, 1983)
Carl T. Evans (July 4th, 1987 to June 25th, 1990)
Rick Hearst (July 23rd, 1990 to June 21st, 1996)
Michael Dietz (July 3rd, 1996 to February 7th, 1997)
Michael Dempsey (November 4th, 2005 to 2007)
WORKS:
CEO of Spaulding Enterprises
Executive at Spaulding Enterprises in France
Former co-owner of the Springfield Journal
Former partner at Jenna Bradshaw's hand-lotion company
Former CEO and president of Spaulding Enterprises
Formerly worked at Wheels and Meals Diner
ROMANCE:
Harley Cooper (divorced)
Blake Thorpe (divorced)
Eleni Andros (divorced)
Lucy Cooper (divorced)
Sarah Taggart (dated
Marcy Campbell (dated)
Dinah Marler (dated)
Teja (dated)
Debbie Henderson (dated)
Blake Thorpe Spaulding (lovers)
Stephanie (dated)
Sybil (dated)
Gillian "Gilly" Grant (dated)
Tangie Hill (dated)
Marina Cooper (lovers)
Ava Peralta (dated)
ABOUT:
Alan-Michael has always seemed to be the most sincere of the Spaulding men, as well as the most conflicted. He is the son of Alan Spaulding and Hope Bauer; an interesting character.
Alan-Michael was always trying to live up to the example that his older brother Phillip set. They've even married some of the same women. He left town for a long time after marrying Lucy Cooper. They moved to France after getting upset at what was going on between their families in Springfield.
Of course Alan-Michael has done some bad things of his own in the past. For example, in an attempt to remain close to Eleni, he switched her birth control pills with placebos, so that he could "give her a reason to stay". He also married Harley, in part, to get a one million dollar trust fund. He also paid a French woman to claim that she had slept with Frank Cooper. He was hoping that it would drive Eleni from Frank to him.
Alan-Michael often goes to great lengths for the women he cares about; sometimes it makes him a little scary and compulsive. He learned a lot of business instincts from his father, Alan, which got him into a lot of trouble in both business and in the romance department. He was not as good at the machinations as his father was. Alan framed him for embezzlement in order to get him to leave town.
Page proofread by Laura 9/29/09
Back to the Main Guiding Light Character Descriptions Page
---
Buy Soap Magazines
Go here for great news & scoops, photos and in-depth articles!
Soap Opera Digest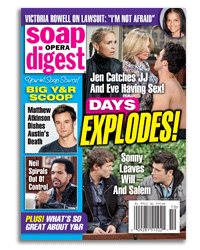 ---