PLEASE CLICK TO DONATE TO OUR SITE!!!!
This is just an unofficial fan page, we have no connection to "Guiding Light" or CBS.
PLEASE CLICK TO DONATE TO OUR SITE!!!!
Guiding Light Characters
Description by Elizabeth
A.C. Mallet
Born Anthony Camaletti

PLAYED BY:
Mark Derwin (July 5, 1990 to September 28, 1993)
Rob Bogue (April 2005 to present)
WORK:
Detective with the Springfield PD
Former star of the "The Law"
Former warden at the state prison near Springfield, IL
Former police detective in Florida
Former detective with the Springfield PD
Former private detective with Frank Cooper
ABOUT:
Mallet first arrived in Springfield at the urging of the District Attorney's office. He began to investigate the supposed death of Phillip Spaulding. Originally, he claimed to be a writer, in order to get close to those that surrounded Phillip. It wasn't long before everyone in town found out that he was a cop. Eventually, Mallet tracked down Phillip and was convinced that he was innocent of the crimes being charged against him. He then helped Phillip escape and found the true guilty party.

It was after all of this that Mallet decided to stay in Springfield and work as a private detective with Frank Cooper. Soon after starting the business, Mallet's past began to haunt him. It came out that he was really a NYC cop by the name of Anthony Camaletti and had worked investigating mobsters. While investigating the NY mafia, he fell in love with one of the mafioso's daughters. When the boss found this out, he put a hit out on Anthony and ended up killing his daughter. Anthony adopted the name A.C. Mallet and had been on the run every since.

Not long after his history came out, a woman came to town for surgery, and Mallet immediately recognized her as his beloved whom he thought had died. They met up with one another and rekindled their romance. Her father found out about the two of them and arranged to have Mallet beaten up.

Just as he was about to leave town, Mallet was persuaded to join the police force by Ross Marler. He became the teacher for the new rookies, which included Harley. He and Harley immediately started arguing and then later fell in love with one another. They helped expose a crooked cop and investigated a murder with one another. Eventually, the two moved in together.

Mallet and Harley became very close, very quickly. After an explosion that left Mallet without his hearing, Harley bought him a hearing service dog. Mallet helped her look for her father, Buzz's name on the Vietnam Memorial Wall. Later, she found out that her dad was living in town. Mallet and Harley got married in a surprise wedding thrown by Buzz. They later moved to Florida; still later, they returned to town later after divorcing.

A.C. has grown a lot during his time in Springfield. He's made some mistakes with women, although he seems to have learned from them. Mallet is the type of man who loves family and knows what he wants.

He also takes his job as a police detective very seriously, despite some blunders in the past. Nowadays he has little to no patience for those who can't let the law and judicial system take care of the bad guys.
Mallet was tempted to get involved with Harley again, but she was with Gus. He was involved with Dinah for a while, but then she was shot in the head and had a major personality change. He fell in love with Marina, after she joined the police force. They married but couldn't have children, so they adopted a child abroad, whom they named Henry. Henry turned out to be Edmund's grandson and Shayne's son.
Page proofread by Laura 8/4/09
Back to the Main Guiding Light Character Descriptions Page
---
Buy Soap Magazines
Go here for great news & scoops, photos and in-depth articles!
Soap Opera Digest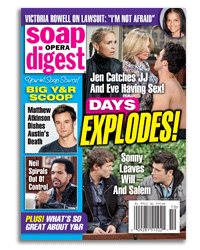 ---