PLEASE CLICK TO DONATE TO OUR SITE!!!!
This is just an unofficial fan page, we have no connection to "Guiding Light" or CBS.
PLEASE CLICK TO DONATE TO OUR SITE!!!!
Guiding Light Articles
Farewell to GL
By Eva
9/21/09
I have watched the beginning of a few soap operas: Capitol, Santa Barbara, Sunset Beach, and Passions. I have also watched the last episodes of all those shows, because they have all been cancelled, but none of them affected me as much as the end of Guiding Light on September 18, 2009 for one simple reason. I had not been watching all those shows for a very long time, and I wasnít as invested in the characters as I was with Guiding Light. I was 6 years old when I began watching Guiding Light. I was home because I had a cold, and I saw the show for the first time. They were having the Bauer Barbeque. I had heard about the show before because my mom started to watch it that same year, and she would tell me about the characters and stories as she drove me home from school.
I was shocked when CBS announced they were canceling the show that had a combined 72-year history if you count both the radio and TV broadcasts. I knew when they would air the final show, but amazingly it didnít hit me that I wasnít going to be seeing the Bauerís Coopers, Reardons, and Spauldings anymore until today when I looked in my DVR program guide and saw the words "Price is Right" at 2 p.m. instead of Guiding Light. Many fans have talked about the ending of the show, and I am grateful that Guiding Light had time to give us an ending, because many soaps and prime time shows have not been so lucky.
I have to say that for the most part I liked the last show. Everyone got a happy ending except for Jeffrey who we are supposed to assume is still chasing Edmund. I didnít like this part, because it was the only story that didnít get any closure. Edmund was one of the great Guiding Light villains, and he deserved to be either caught, sent to jail, or a wonderful grand death scene. Jeffrey and Reva deserved a good-bye scene if as all fans knew she was going to go back to her Joshua. I loved that Rick and Mindy finally got married, since they were always the perfect couple even though they never seemed to know it. I read in an interview that Ellen Wheeler only wanted to make sure the fans got a happy ending for the characters they loved, and I thank her for that. I canít help but wonder, however, if she had been concerned about the fans in the first place, the show wouldnít have been cancelled.
I want to take this opportunity to thank the actors for portraying these wonderful characters that I grew to love and care about so much. I think Guiding Light had some of the finest actors working on the show early in their careers. They were always topical and cutting edge in their storylines even if the fans didnít always enjoy them. I think that everyone remembers the Reva clone story, which I think was a little too far fetched for the fans to believe would happen in Springfield. I think the clone story would have done well on another soap just not Guiding Light. If you want to relive some wonderful Guiding Light memories and maybe see some clips you have never seen before, go to YouTube and type in Guiding Light Farewell tribute. It is in several parts and is a wonderful tribute showing the best moments of Guiding Light. The Light is now dark but the show will never be forgotten by its fans and will always have a place in the history of television.
Guiding Light Farewell Tributes
Part 1 ~ Memorable Moments
Part 2 ~ In Loving Memory
Part 3 ~ Friendships
Part 4 ~ Weddings
Part 5 ~ Families
Part 6 ~ Couples
Part 7 ~ Villains
Part 8 ~ Celebrations
Part 9 ~ Legacy
The opinions in these articles are those of the writer and do not necessarily reflect the opinions of The TV MegaSite or its other volunteers.
Back to the Main Guiding Light Articles Page
---
Buy Soap Magazines
Go here for great news & scoops, photos and in-depth articles!
Soap Opera Digest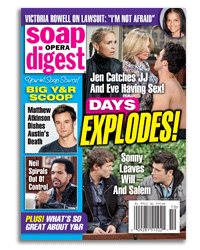 ---